Soundtrack & Radio Bangumi "Suzumiya Haruhi no Yuuutsu SOS-dan Radio Shibu Digest 05"
Created/Updated 2006-11-03
Catalog Number : KABA-1505-CD
Manufacturer : Kadokawa Entertainment Inc.
Series : Suzumiya Haruhi no Yuuutsu
Printing Date : 2006-10-27
Price : N/A
Play Time : 40:13
Number of Discs : 1
---
Animephile Rating: Okay
---
This CD is part of Suzumiya Haruhi no Yuuutsu, Episode 04 Limited Edition DVD.
Tracks 1 to 7 are BGM. Rest are digest from the radio show (lantis-net.com), focusing on "best of" selections.
This CD has an alternate catalogue number of KYOH-G005-CD.
---
Track 01:

yakyuu wa seishun to no sesshoku

Track 02:
Track 03:
Track 04:

gekiretsu de karei naru hibi

Track 05:
Track 06:
Track 07:
Track 08:

taikutsushinogi ~ Opening - meisakuse

Track 09:

burari fushigi tansaku-tai - meisakusen

Track 10:

Yuki ni kike! - meisakusen

Track 11:

Asahina Mikuru no iwayuru hitotsu no moe youso - meisakusen

Track 12:

Haruhi-teki Minority Report - meisakusen

Track 13:

ushiromuki hitori hanseikai! - meisakusen
---
Images (move cursor over each image to see short comment):
---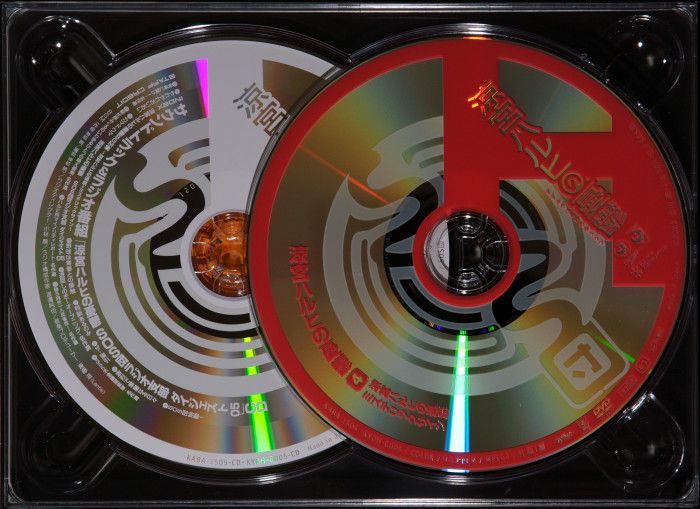 ---
---